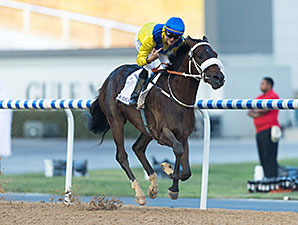 "A variable in a given situation that could have the most significant impact on the outcome…a noteworthy special talent or quality… an indescribable quality; something about a person that you cannot put your finger on."
Those are all definitions of the term "X factor," and they all could describe Mubtaahij in this year's Kentucky Derby Presented by Yum! Brands (gr. I) run May 2.
Perhaps the most relevant of those definitions in describingMubtaahij and his chances at Churchill Downs is the last…"something that you cannot put your finger on."
Yes, he could have a "significant impact on the outcome," and, yes, he definitely could be "a special talent," But if only we could put our finger on just how talented he is and where he fits with a group of Derby horses people are calling the deepest and most gifted in many years.
Americans, both fans and horsemen, seem to be pretty much split down the middle on whether we have a potential superstar on our hands who has a big shot to knock off this year's illustrious group of 3-year-olds or whether he simply has been beating up on a slow bunch of horses at Meydan and will not be able to match the speed of the Americans, while competing in unfamiliar surroundings in a 20-horse field with a French jockey on his back.
And that is why no one can really put their finger on how he is going to perform in the Derby. And that is what makes him so intriguing.
The son of Dubawi currently is stabled at Arlington Park and had his first three-furlong blowout over the Polytrack surface this morning, April 21.
Just look at some of the intangibles we are dealing with:
* He will be the only horse in the Derby racing without Lasix.
* In Dubai, he resided in an outdoor barn to get fresh air because he had been prone to lung infections as a young horse, but appears to have grown out of it and has been fine this year. But trainer Mike de Kock said one can never sure and has continued to stable him outdoors just in case.
* He trains without shoes and will not be shod until race day.
* He is the only horse other than 1971 winner Canonero II to come into the Derby having already raced twice at a distance farther than 1 1/8 miles, winning the last two legs of the United Arab Emirates Triple Crown (the Al Bastakiya and grade II UAE Derby), both at 1 3/16 miles.
* He has already competed in a Triple Crown series and has twice defeated a Triple Crown winner, the Southern Hemisphere-bred 4-year-old Sir Fever, winner of the Uruguayan Triple Crown.
* When he broke his maiden on the dirt at Meydan as a 2-year-old, he defeated 3-year-olds and 4-year-olds, something unheard of in this country.
* Unlike the majority of the American horses, he has raced five times in the past four months, and keeps improving.
* In the UAE Derby, Mubtaahij displayed a spectacular turn of foot and burst clear of his opponents, winning by eight lengths, with jockey Christophe Soumillon looking back twice in the final furlong. In winning the UAE Derby, he defeated horses from England, Japan, Saudi Arabia, Uruguay, U.S., and Dubai.
In summation, we have an Irish-bred horse, owned by an Arab sheikh (Sheikh Mohammed bin Khalifa al Maktoum), trained by a South African, and ridden by a Belgian. And you're surprised you can't put your finger on this horse?
One thing you can depend on, a lot of people will be putting their finger on his number when they punch out their tickets, either at the track or on their computers. And many will be doing so because of that intangible called the unknown.
And that unknown also includes how the colt will perform without his regular (and special) feed that is not registered by the Food and Drug Administration (FDA) to be permitted in the U.S.
"I think that's the most significant thing with all the traveling," de Kock said on a national teleconference April 21. "It's something that's out of our control, and I understand where they're coming from. But no trainer would like to change a regular diet going into any sort of event. The diet I've changed to is something I do know a little bit about and have used before. But the fact is, it's not what he's used to regularly. How much bearing that would have on his performance, quite frankly, I'm not that sure. But from a trainer's psyche it's not ideal, let's put it that way."
As for the decision not to use Lasix, de Kock said. "It's purely about bleeding. As I understand things, Lasix is there to assist known bleeders and there has not even been a suspicion of this horse ever bleeding. I'm not sure what he'll do if given Lasix, and because he's never bled, I'm not prepared to gamble on his performance being altered with Lasix."
In discussing his decision to use Christophe Soumillon instead of looking for an American jockey, de Kock said, "I believe he will have a game plan in his mind and I don't like to interfere too much with jockeys because I don't want to hold them to any tactics. I believe if one employs a jockey, you can sit down and have a game plan, but there's no race ever run on paper. So you have to really have faith in your man, and if the game plan changes in the first 400 meters (quarter mile) of the race, well, so be it. One just has to accept that. The reason why I have Christophe Soumillon riding the horse is because I trust the man, I think he's a very good jockey, and I'm going to live by the decision he makes."
What makes this story all the more fascinating is that Mubtaahij's career on dirt nearly never happened, and most likely only did because he was such a disappointment in his first two starts on grass at Newmarket and de Kock had no idea what to do with him.
"He was showing us a fair bit at home, so we were quite disappointed with his first two starts in England," de Kock said. "I think he was kind of immature and just wanted a little bit of time. In fact, there was a great debate amongst us whether to take him to Dubai or not. We almost left him in England just to do the winter there, and then I thought, 'What the hell, let's get him to Dubai, get a bit of sun on his back, and see what he does.
"When he got to Dubai he just seemed to mature and enjoy himself, so we thought let's have a crack at a maiden race (on dirt) and he goes and wins that and just keeps improving. So it all happened by chance and we'll just accept the result as it is."
De Kock said he is confident Mubtaahij can handle all that is being asked of him because of his temperament.
"With his demeanor and the fact that he's an easy horse to travel and won so well in the UAE Derby, it gave confidence to take a crack at it," De Kock said. "But I probably picked the worst year when it comes to the opposition, but at the end of the day you never know. It's a sporting event and there are never any guarantees."
Some people in America also are skeptical about a horse traveling this far and being able to win a grueling race like the Kentucky Derby. But to de Kock, this is old hat.
"In South Africa, we train in Johannesburg and we race in Cape Town, which would roughly be 18 to 20 hours by van, and it's something we do very regularly during the Cape Town season. I'll do it multiple times and the horses win group I races regularly. I've shipped to Hong Kong to win multiple group I races there, which is about 12 hours door to door. It's not something that's actually foreign to us. I've put horses on a van for eight hours and race the next day and have been successful.
"I think the key to transporting horses is, a) the horse has got an appetite, and b) the horse has got to take in fluids. If you can get the balance of the two right, you've got half the battle won," de Kock said. "An 18-hour or even 24-hour journey to a destination to race is something that does not put us off."
As for Mubtaahij as a traveler, de Kock said the trip to Arlington Park was about 24 hours door to door (with a stopover in Amsterdam), and when the colt arrived he just didn't look quite the same as when he left Dubai, according to assistant trainer Trevor Brown.
"Trevor just felt that he looked a little bit tucked up, so I decided not to travel him down to the (Skylight) Training Center near Louisville as originally planned. Why put him on a van two or three days later and another eight hours shipping. Let's just stay in Chicago and let him recover and get used to his surroundings. We're very comfortable with that track and we've raced very successfully at Arlington.
"So we switched plan in midstride and I think we did the right thing, because within two or three days the horse was just bursting out of his skin and he hasn't stopped eating and drinking, and whatever weight he lost he put back on really quickly. As horsemen, we have to be flexible when it comes to these kinds of things. I think the horses talk to us."
In looking at the Derby and how Mubtaahij's running style would fit the likely pace scenario, de Kock said, "Given the little I know about the horses that are in there, the emphasis in America does seem to be on speed, and he's a horse who can relax fairly well off a hot pace and has a big kick and will be doing his best running toward the end. Certainly I'm not there to match the American horses for speed; I don't think we have that ability. But I do know we have the ability to get the 10 furlongs and we have the ability to come home strong the last three or four furlongs."
De Kock feels Mubtaahij has all the attributes to handle anything that is thrown at him in the course of the race.
"I think he needs the speed to be on and he's a horse who has courage enough to deal with the kickback, although I probably wouldn't want him down on the rail. We might just want to give ourselves the easiest passage sitting a little off the gallop, maybe a little wide away from all the trouble. In Dubai there was a fair amount of kickback and I think if he can deal with that, he can deal with most dirt tracks. He's got a lot of courage and a real competitive spirit and can deal with adversity. He never lays down in a race and I never work him in company because he's so competitive."
De Kock, however, admits the UAE Derby set up perfectly for Mubtaahij because of the hot pace.
"They went a little too quick early on with four horses taking each other on at a suicidal pace," de Kock said. "It was a little crazy up front and that's why his acceleration possibly could be a little flattering. The two Japanese horses really took each other on and he was able to relax behind them and get the perfect trip. He does have acceleration, though, and he does get the 10 furlongs and runs hard to the (finish) line.
"He has the ability to sit off a lot of speed and accelerate off that, and that's probably in his favor. However, in America I think we're taking on a different animal in that they can lay the speed down and keep going. So, we have to accelerate; we can't wait for them to come back to us."
Even coming from South Africa, de Kock not only appreciates what the Kentucky Derby stands for and the prestige it holds around the world, it is a race in which he has always dreamed of competing.
"It doesn't matter what country you come from, they Kentucky Derby has proven it's the greatest, and if it isn't, you tell me which one is. To be part of that is something very special to us. We're not going with a 100-1 shot, and it would be fantastic if he ran well. It is mind-boggling to think about it and I don't believe it will all settle in until we're actually there and see the real scenario and all the spirit around it all.
The name Mubtaahij translates to "elated," which is most appropriate, considering what de Kock feels having a horse like this and being able to embark on such a special journey.
"I don't think I'll be disappointed and I hope to gain everything out of it that I expect," he said. "It's something that has been an ambition and a dream since I was a very young man in this industry, and I'm really honored and privileged to realize that dream."
Read more on BloodHorse.com: http://www.bloodhorse.com/horse-racing/articles/91418/mubtaahij-the-x-factor-in-kentucky-derby#ixzz3XzQjUKau